Impact Story | Feminist Action for Climate Justice
Empowering youth voices in the leadership of the Feminist Action for Climate Justice Action Coalition
Women and girls have always been at the forefront of movements demanding climate and environmental justice, and re-defining traditional models of leadership. The Feminist Action for Climate Justice Action Coalition is amplifying the expertise of marginalized groups, and feminist leaders to advance gender-just climate solutions.
Sep 23, 2022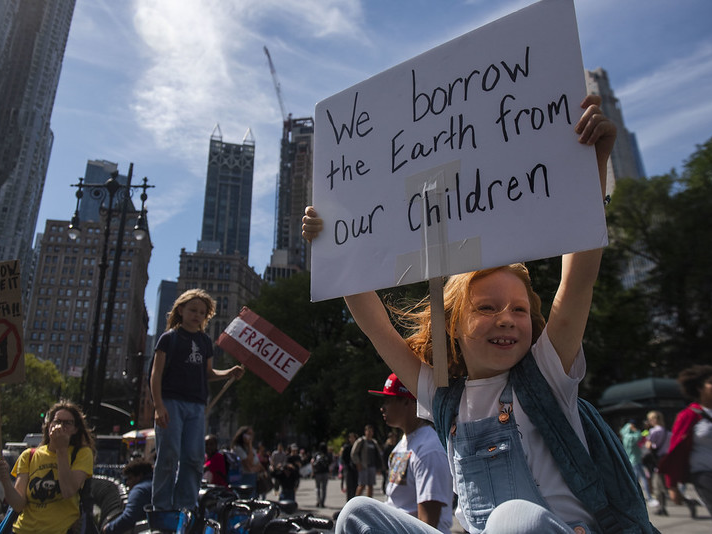 UN Women's Generation Equality initiative is a founded on multi-stakeholder partnerships that focus on seven of the most critical areas to achieve concrete change for women and girls worldwide. It is a novel opportunity for organisations to open new ways of addressing one of the biggest challenges in the UN Decade of Action: Achieving gender equality. Feminists from across the globe gathered in Mexico and Paris last year to launch this unique initiative that cherishes diversity, uplifts innovative ideas, challenges existing frameworks and pushes boundaries for the betterment of the lives of women and girls in all their diversity.
The power of Generation Equality lies with its members, who continue to shape how one collaborates in a Coalition and what our collective action aspires to achieve. One group of advocates putting trust in this process and pushing to be heard in the UN sphere are youth activists. Having gained international attention with their demands for immediate climate action, they identified Generation Equality and the Feminist Action for Climate Justice Action Coalition as a timely opportunity to bridge the gap between their realities at the grassroots level and those discussed in multilateral spaces. Today, these climate activists have grown into young leaders who are advancing the international discourse for gender just climate solutions, shoulder to shoulder with the Member States, the private sector and others.
"Generation Equality is a space where we actually can bring change, where we are not just present, but we are loud and visible." – Ayshka Najib, Youth Activist
Youth Action Coalition leaders from Fridays for Future from Most Affected Areas, Tejiendo Pensamientos and Break.The.Ice are proud of their small and big victories across the past two years. These range from ensuring the multi-stakeholder partnerships, put in place through the Global Acceleration Plan, are decolonized to setting ambitious targets in the Action Coalition's Blueprint that guide its work until 2026.
The activists also led the preparation of a Youth Manifesto, presented to other actors in Generation Equality to make the case for centering and supporting youth leadership. They also organized a Feminist Action for Climate Justice Youth Engagement Roundtable, as well as youth consultations during the Commission on the Status of Women-66, leading to successful integration of their demands in the meeting's agreed conclusions. Working in the Action Coalition has given them a platform to advocate together for better policies, learn together and grow together.
"It is a space that allows us to speak from the realities of the territories, to be a real activist, not just a performance activist where indigenous youth from the global south make themselves heard in decision-making spaces […]." – Alejandra Quiguantar, Youth Activist 
Through these experiences, these Youth Activists have grown as leaders, expanding their horizons by learning from each other, increasing their confidence by organising workshops and sub-committees, and negotiating agreed conclusions. These are experiences that each one of them channels back into their communities, with extensive plans to build further capacities at the grassroots level in order to educate on climate change, elevate others' voices and mentor the leaders of tomorrow.
"Working in the Action Coalition has greatly increased my confidence and my organizational skills, and has shaped my understanding and approach as a youth leader working with indigenous women from most affected places." – Mana Omar, Youth Activist
By ensuring that it co-created its agenda with youth leaders, the entire Feminist Action for Climate Justice Action Coalition is expanding its work to be inclusive of grassroots movements. Just as much as youth leaders have learned from their co-leaders and Commitment Makers, the Coalition is learning to expand beyond traditional forms of collaboration, pushing innovative approaches to leadership. This joint work is helping all leaders to improve approaches to collective and rotational leadership.
"We don't want to just be in codified spaces. We want to be part of the change. We want to be in the room where the decisions are being made." – Anne Heloise, Youth Activist
Looking ahead, the youth leaders have far-reaching goals for solidifying their seats at the table, empowering others to speak up and advancing this non-traditional partnership through Generation Equality. Across the Action Coalitions, youth leaders are supporting each other to push the Action Coalitions' agendas to become more inclusive and move the challenges of marginalized groups to the centre of each work plan. Within the Feminist Action for Climate Justice Action Coalition, youth plan to advocate for their key messages to be taken up at the global climate conference COP-27. They are also advancing discussions on gender-responsive climate financing and pushing feminist agendas on the scarcity of water including period poverty. In Generation Equality, the Youth of the Feminist Action for Climate Justice Action Coalition n have found a platform where they are heard and, speaking to them, it is clear: they are here to stay.
UN Women would like to thank the Youth from the Feminist Action for Climate Justice Action Coalition for their co-leadership and extensive engagement in Generation Equality. A special appreciation is extended to Alejandra Quiguantar, Ana Heloisa, Anne Heloise, Ayshka Najib, Fazeela Mubarak, Mana Omar, Maria Reyes and Palakh Khanna for their time during the interview.
The Feminist Action for Climate Justice Action Coalition brings together the Member States, international organizations, private sector, civil society, grassroots, and youth-led organizations to consolidate efforts, set concrete targets and create frameworks for multi-stakeholder implementation, which will leverage support and drive collective action for achieving gender and climate objectives by 2026.